Rosenbauer Unveils New Panther for North American market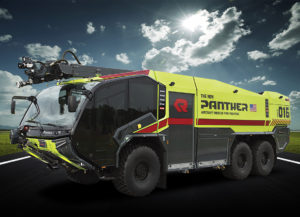 ROSENBAUER PANTHER Designed for high-performance
The new Rosenbauer PANTHER will soon be available in the USA. The unit will be produced at the Wyoming, Minnesota facility of Rosenbauer America.
The new PANTHER will be introduced at the annual conference of the ARFF Working Group held in Frisco, Texas.  Performance of the new Panther exceeds both NFPA and FAA requirements. The crew is protected in a newly designed, crash-tested cabin which exceeds the world's most stringent safety requirements. The fire extinguishing technology is designed for high-performance, precision fire fighting.  The panorama deep-set windshield offers improved vision and safety. The environmentally friendly engine power system meets world-wide engine emission requirements.  All-in-all, the new Rosenbauer PANTHER is a sleek, high-tech truck with totally integrated vehicle and fire extinguishing systems.
Sales rollout in 2017
The PANTHER is Rosenbauer's flagship ARFF vehicle and is synonymous for top performance, safety and ergonomics. Rosenbauer has vehicles operating in over 90 countries and the Panther is one of the world's most successful airport fire trucks. It is manufactured at facilities located in Wyoming, MN and Leonding, Austria. The sales rollout for the USA manufactured PANTHER is scheduled in 2017.
PANTHER 6×6 new
Chassis: Rosenbauer 39-700-6×6
Engine: Volvo D16, 700 HP, Tier IV final (USA version)
Transmission: Twin Disc, 6-Speed Power Shift
Extinguishing agents: 3,000 gallons of water, 400 gallons of foam, 500 pounds of dry chemical with optional 460 pound clean agent system
Pump:  Rosenbauer N80 with capacity up to 2,350 GPM at 180 PSI
HRET:  54′ High Reach Extendible Turret with capacity up to 1,500 GPM
HVLA:  High Volume Low Attack turret with capacity up to 1,250 GPM
Approximate Overall Dimensions:  39'L x 10'W x 12'H
Gross Vehicle Weight Rating:  85,800 pounds
———————————————————————————————————–
New! 75′ MM on Single Axle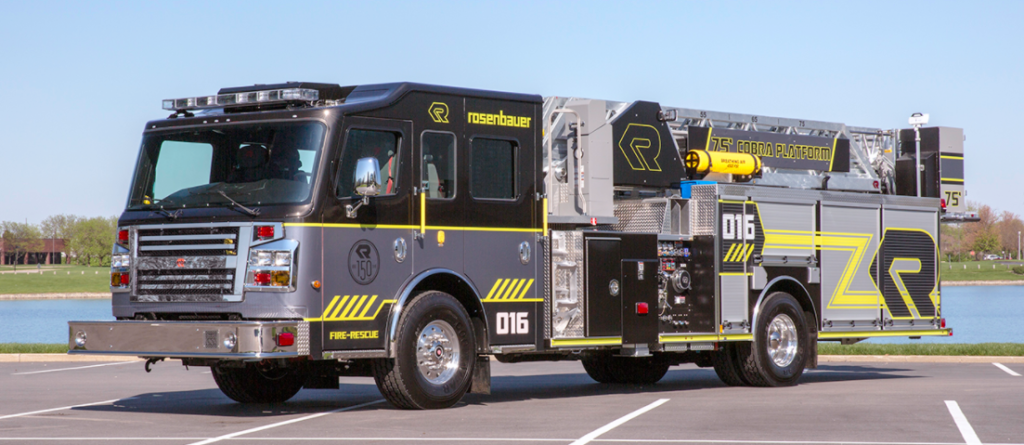 Targeted for regions whose public roadways are narrower and more congested, the new Cobra product will allow departments to run a tower company in some of their hardest areas to serve. The first unit produced sports a distractive graphics package borrowed from the Rosenbauer Group's flagship product. the Panther, rollout at last summer's Interschutz show.Departments interested in a demo of the 75' mid-mount Cobra platform should contact their local Rosenbauer dealership. Customers can use the online dealer map on www.rosenbaueramerica.com.To date Rosenbauer now offers a mid-mount Cobra Platform in the following lengths:
75' Mid-Mount (Single axle)
75' Mid-Mount (Dual Axle)
88' Mid-Mount (Dual Axle)
100' Mid-Mount (Dual Axle)
Rosenbauer is the world's leading manufacturer of firefighting vehicles and equipment.  In North America, Rosenbauer incorporates the international strength and innovation of a global company with top American manufacturing firms. For more information, please visit the company's website –www.rosenbaueramerica.com.
———————————————————————————————————–
ROSENBAUER SOUTH DAKOTA RECEIVES PRESIDENTIAL AWARD FOR EXPORT SUCCESSES
"Rosenbauer South Dakota has demonstrated a sustained commitment to export expansion. The "E" Awards Committee was very impressed with Rosenbauer South Dakota's innovative firefighting technologies. The company's customization of its product line to meet client needs in export markets was also particularly notable. Their achievements have undoubtedly contributed to national export expansion efforts that support the U.S. economy and create American jobs," said Secretary Pritzker in her congratulatory letter to the company announcing its selection as an award recipient.
Rosenbauer America is one of the leading manufacturers of fire apparatus in North America. They provide state-of-the-art fire apparatus for fire departments all over the world. In North America, Rosenbauer incorporates the international strength and innovation of a global company with top American manufacturing firms and employees nearly 700 people in the U.S. alone.
"Exporting continues to be the foundation of our sales growth, and we are honored to receive the "E" Award," said Harold Boer, president of Rosenbauer America. "Over the years our export sales have increased steadily and helped us to secure our position in the fire industry as a fire apparatus supplier for the world."
In 1961, President Kennedy signed an executive order reviving the World War II "E" symbol of excellence to honor and provide recognition to America's exporters. Today, Secretary Pritzker honored 123 U.S. companies with the President's "E" Award for their outstanding work to reduce barriers to foreign markets and to open the door to more trade around the world.
In 2015, U.S. exports totaled $2.23 trillion, accounting for nearly 13 percent of U.S. GDP. Nationally, exports contributed to the U.S. economy, supporting an estimated 11.5 million jobs.
U.S. companies are nominated for the "E" Awards through the Department of Commerce's U.S. Commercial Service office network, located within the Department's International Trade Administration, with offices in 108 U.S. cities and more than 70 countries.  Record years of successive export growth and an applicant's demonstration of an innovative international marketing plan that led to the increase in exports is a significant factor in selecting the winners.
For more information about the "E" Awards and the benefits of exporting, visit www.export.gov.
———————————————————————————————————–
First U.S. 125-foot Rosenbauer Quint Goes to Sioux Falls (SD) Fire Rescue